Police Officer Medal of Valor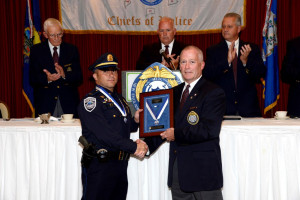 It is the policy of the New England Association of Chiefs of Police (NEACOP) to recognize police officer with a medal of valor each year who voluntarily distinguishes him or herself by extraordinary heroism. The officer must be fully aware of the imminent threat to his or her personal safety and must have acted above and beyond the call of duty at the risk of his or her own life or well-being.
Lifesaving Award
The life saving award may be awarded to any person who takes action that results in the saving of human life. The life of the person saved must have been in peril and immediate jeopardy. The action taken by the nominee is not limited to the application of medical training, and the nominee is not required to be present at the scene of the incident to be considered for this award. Some nominations may be for more than one officer as a result of nominees being involved in a single incident. Such nominations should be judged as a single nomination. The award may be made posthumously.
Nominations Procedure
Eligibility: All sworn, full-time law enforcement officers of local, county, state and federal law enforcement agencies, are eligible.
Nomination Format: Nomination for this award shall be made by the Chief of Police or Senior Law Enforcement Officer of the nominating agency. While an official NEACOP Award Nomination Form must accompany each nomination, there is no specified format required for the nominations. However, it is suggested the nominations include a statement of the specific circumstances and facts of the incident(s) underlying the nomination, which may be supplemented by supporting documents, such as departmental citations, letter of commendation, newspaper clippings, etc. No videos will be considered. If possible, a photograph of the nominated officer(s) should accompany the nomination.
Method and Timing of Delivery of Nominations: Nominations must be delivered via email to Chief Mark E. Leonard at [email protected] no later than May 1, 2024 (or the closest regular business day thereafter). Only acts of heroism/ lifesaving which occured between August 1, 2022 to July 31, 2023 shall be considered.
Presentation of the Award: The award shall be presented to the winner at the NEACOP Annual Conference.
View & Print: 2023 Medal of Valor & Lifesaving Award Nomination Form